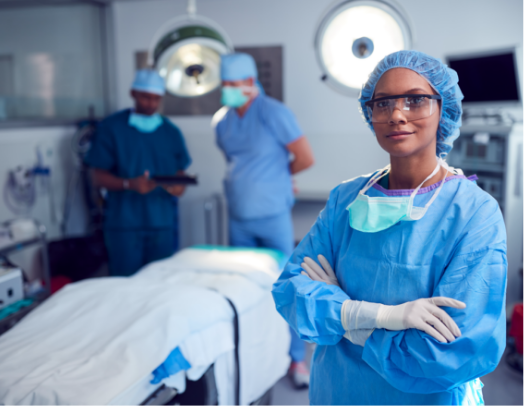 Therapeutic Support Surfaces in the OR: Better Support Surfaces, Better Patient Outcomes
Postoperative patients face a number of challenges during recovery, including pain management, nausea, sore throat and constipation. Amongst these common complications, intraoperative pressure ulcers can develop as well. To protect patients' skin during procedures, pressure ulcer prevention is now an important standard of care in the operating room. This journal examines the various risk factors for pressure ulcer development while looking into interventions that can prevent skin breakdown. Therapeutic support surfaces in the OR are essential.
Incidence & Significance
Pressure injuries attributable to operating room procedures occur at higher rates than on inpatient units. Preventing intraoperative pressure injuries is a high priority because healthcare facilities are not reimbursed for their treatment costs (2, 3).  Each year in the United States, approximately 360 million patients develop these injuries during surgeries that last more than three hours. The average estimated cost of treatment is $750 million to $1.5 billion per year (1, 2). Pressure ulcer formation related to positioning in the OR is a leading cause of increased length of hospital stay among surgical patients, costing between $14,000 and $40,000 per patient. 
Risk Factors
Prolonged surgery time, typically greater than 3 hours, has been commonly acknowledged as a key risk factor for the development of intraoperative pressure injuries (1, 3, 4). Anesthesia also has a significant impact, as general and epidural anesthesia have higher incidences of pressure ulcers than local anesthesia. Excessive intraoperative blood loss leads to tissue hypoxia and pressure injuries even if transfusions are administered. In addition, the use of physical pressure to stop bleeding causes capillary shutdown and further tissue hypoxia (1). Finally, cardiac surgery has a particularly high incidence of intraoperative pressure ulcers. The risk of skin breakdown increases almost 16 fold when patients undergo cardiopulmonary bypass, with 40% of these patients developing pressure injuries on the heels and sacrum (1, 5). 
Prevention
Selecting an appropriate surgical support surface for the patient can reduce the risk of pressure ulcers development. High-quality, therapeutic support surfaces should be utilized for all surgical procedures that last 90 minutes or longer (2, 5, 6).  Multi-layered surgical table pads feature layers of high-density support foam and low-density foam that provide support with therapeutic pressure redistribution. Low-density foam conforms to the patient's body to increase surface area and redistribute the patient's body weight. High-density foam is traditionally the bottom layer to provide support and prevent the patient from bottoming out. Multi-density pads are preferred over single layers of foam because single layers are typically too soft to provide enough support or too hard to protect fragile skin areas (3, 5, 6, 7, 8). 
Multi-Density Surgical Pads
MedMattress Surgical Table Pads feature two models designed to provide therapeutic support surfaces for patients during lengthy procedures. MedMattress MedComfort surgical table pads feature low-density soft foam layers on the top for comfort with high-density foam layers underneath for balanced support.  MedMattress MedUltra Pressure Redistribution pads take this a step further with an additional top layer of cool-gel memory foam that gently conforms to the patient's body providing pressure redistribution. These pads gently immerse the patient's body for optimal pressure redistribution and skin protection.  All MedMattress mattresses are created with CertiPUR-US® certified foam to ensure the highest standards of quality and durability for your patients. They also feature durable Vynmed vinyl covers with thermally sealed secondary fluid barriers to provide protection from fluid penetration. 
Conclusion 
Protecting patients from developing intraoperative pressure ulcers is essential to providing proper care and preventing unnecessary spend. By utilizing multi-density, therapeutic surgical support surfaces in the OR, clinicians can help reduce the risk of pressure ulcer development. Multi-density foam surgical table pads are cost-effective alternatives to standard foam pads to help protect patients from skin breakdown.
MedMattress has carefully crafted the MedComfort and MedUltra surgical table pads to provide optimal support and pressure redistribution for patients at risk of decubitus ulcers. They feature layers of high and low density foam that gently support the patient's body, dissipate heat and promote blood circulation. The MedMattress team is ready to help surgical facilities balance cost and functionality while protecting their patients from pressure injuries. 
References
Gao, L., Yang, L., Li, X., Chen., J., …Yang, H. 2018). Risk factors for intraoperative pressure ulcers in surgical patients.  International Journal of Clinical Experimental Medicine, 11(7) , 7429-7435.
Pham, B., Teague, L., Mahoney, J., Goodman, L., … Krahn, M. (201). Support surfaces for intraoperative prevention of pressure ulcers in patients undergoing surgery: a cost-effectiveness analysis. Surgery, 150(1), 122-132.

Primiano, M., Friend, M., McClure, C., Nardi, S., … Savochka, K. (2011). Pressure ulcer prevalence and risk factors among prolonged surgical procedures in the OR.

AORN, 94

(6), 555-566.

Black, J., Fawcett, D., & Scott, S. (2014). Ten top tips: preventing pressure ulcers in the surgical patient.

Wounds International 2014 5

(4), 14-18

Wang, I., Walker, R., & Gillespie, B. (2018). Pressure injury prevention in the perioperative setting: An integrative review.  Journal of Perioperative Nursing, 31(4), 27-35.

McInnes, E., Jammali-Blasi, A., Bell-Syer, S., Dumville, J., …. Cullum, N. (2015). Can pressure ulcers be prevented by using different support surfaces?

Cochrane Database of Systematic Reviews, 9, CD001735 

Black, J., Fawcett, D., & Scott, S. (2014). Ten top tips: preventing pressure ulcers in the surgical patient.

Wounds International 2014 5

(4), 14-18
Minnesota Hospital Association. (2014). Pressure ulcer prevention in the operating room: Recommendations and guidance. Retrieved from https://www.mnhospitals.org/Portals/0/Documents/ptsafety/skin/OR-pressure-ulcer-recommendations.pdf