MedMattress Crib Mattresses & Child Mattresses
From: $342.99

*Additional Shipping Charges Apply

Design a custom mattress to fit your exact needs!
Product Description
MedMattress Crib Mattresses & Child Mattresses for Young Patients
Designed Specifically for the Comfort of Young Patients with Sealed Seams and an Easy to Clean Cover
MedMattress pediatric mattresses offer comfort and support for even the smallest patients! Depending on your needs, MedMattress offers variety of medical grade crib mattresses and child mattresses to fit all of the surfaces in your facility including pediatric hospital beds, cribs, cradles, infant care stations and infant warmers. MedMattress offers the largest selection of nursery and pediatric mattresses.
MedMattress crib mattresses and child mattresses feature ultrasonic sealed seams and a Vynmed™ healthcare grade vinyl cover making it extremely durable and easy to clean. Additionally, the crib and child mattress' cover is fluid resistant, antibacterial, nonallergenic and  stain resistant. All MedMattress pediatric mattresses are created with CertiPUR-US® certified foam to ensure the highest quality mattress for your tiny patients.
MedMattress offers custom sizing for any crib mattress, nursery mattress, pediatric mattress or bassinet pad.
Specifications
MedMattress Crib Mattresses & Child Mattresses were created to meet the unique needs of the small patients in the PICU and pediatric units
Ultrasonic-sealed seams are completely closed to prevent liquid penetration
Vynmed™ healthcare grade vinyl cover is extremely durable and features a permanent polyurethane coating and a tear-resistant double-sided coating
Built-in fire barrier protects the foam core
Super-A-Vent™ built-in waterproof vent system allows air to pass through the cover
CertiPUR-US® foam core is free from mercury, lead and other heavy metals and made without formaldehyde, ozone depleters and PBDEs, TDCPP or TCEP flame retardants
Mattress core is comprised of three (3) layers: soft conforming foam, performance soft foam and supportive base foam
Mattress cover is fluid resistant, antibacterial, antifungal, stain resistant, antistatic, non-allergenic, self-deodorizing and latex free
Conforms to California Technical Bulletins, 117, 121 129 and CFR 1633
Weight capacity: 150 lbs
Warranty: One (1) year standard with extended warranty options available
Foam Quality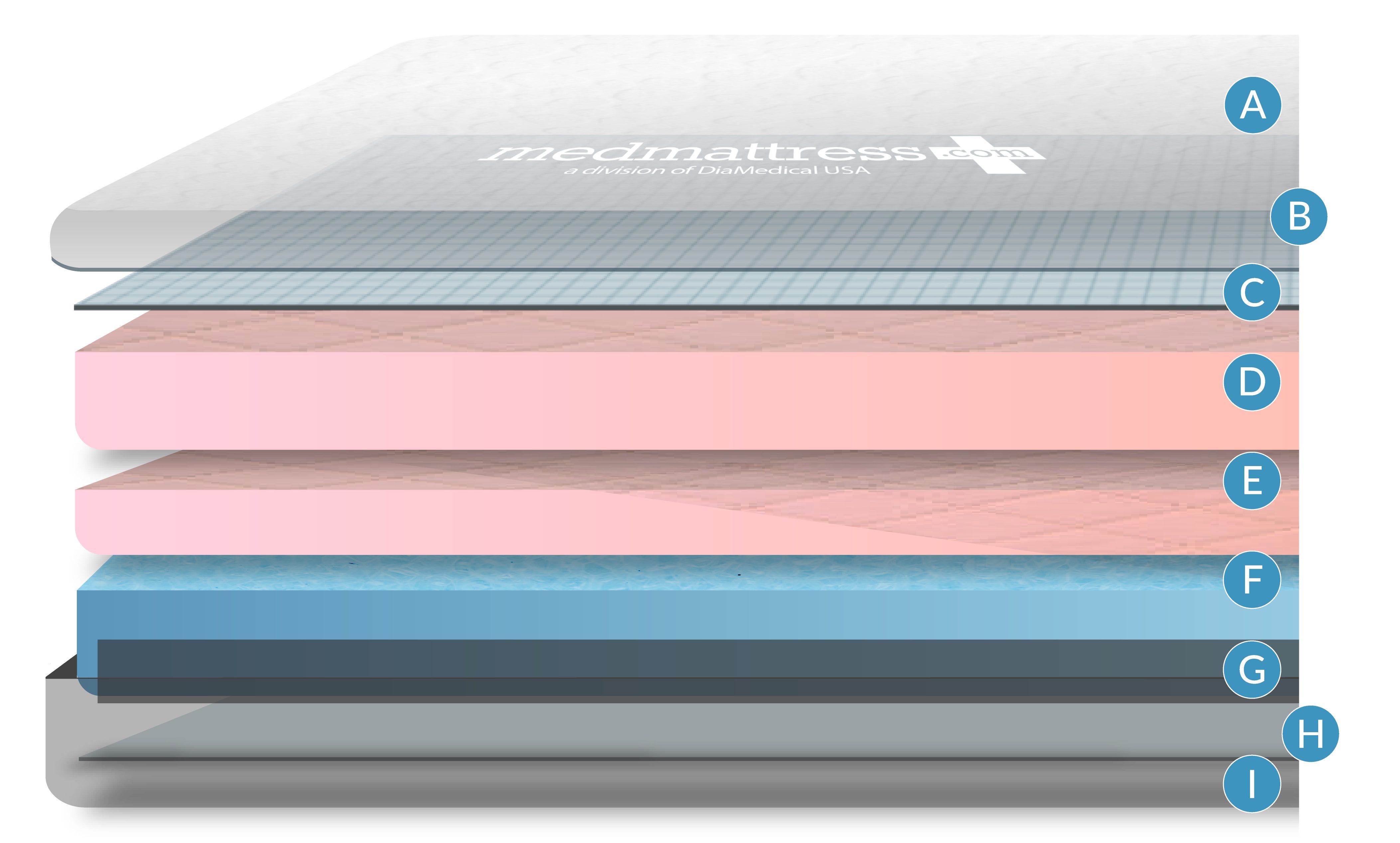 MedMattress Crib Mattress & Child Mattress Foam
Ultrasonic Sealed Seams
Vynmed™ Healthcare Vinyl Cover
Fire Barrier Layer
Soft Conforming Foam
Performance Soft Foam
Supportive Base Foam
Super-A-Vent™ Breathable Vent
Fire Barrier Layer
Vynmed™ Healthcare Vinyl Cover