Span-America PressureGuard® Easy Air LR
From: $3,904.99

*Additional Shipping Charges Apply

Design a custom mattress to fit your exact needs!
Product Description
Span-America PressureGuard Easy Air LR
Low Air Loss Therapy with Powered Alternating Pressure or Lateral Rotation and Micro-Climate Management
• Preferred choice by clinicians treating stage 1 to 4 pressure ulcers
• The combination of low air loss and alternating pressure therapies provide an unparalleled pressure redistribution surface
• In static mode, the mattress provides a firm surface that makes it easier for the patient to transfer or reposition themselves
• Geo-Matt® style foam topper and individual foam cell interior to accommodate various body sizes
• PressureGuard Design creates head to foot cylinders for improved pressure reduction
• Heel Slope™ transfers some load to more shear tolerant calves
• Safety Edge Design with inner bolster to minimize risk of falls and entrapment
• Non-collapsible Air Diffusion Matrix for uninterrupted air flow, moisture vapor release and continuous air current, also helps reduce maceration
• Weight capacity: 500 lbs in float & alternating mode, 350 lbs in rotation mode
• Warranty: Two (2) year, non-prorated (all components)
PressureGuard Safety Edge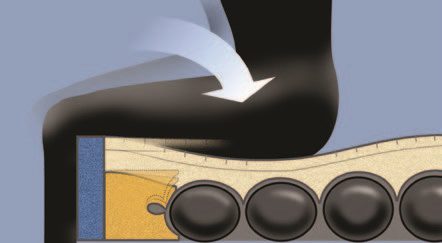 All PressureGuard products have a two-part bolster system surrounded with air tubes to help prevent falls and bed rail entrapment. When the patient rolls towards or sits on the edge of the mattress, the inner of the mattress bends toward the center while the outer part maintains its structure, providing extra support and safety. Standard air-filled mattresses collapse on the outer edge, directing patient into side rails or onto the floor.