Home Care Incontinence Mattress Package
From: $216.99

*Additional Shipping Charges Apply

Design a custom mattress to fit your exact needs!
Product Description
Home Care Incontinence Mattress Package
This Home Care Incontinence Package includes our Home Care Incontinence Mattress, FitRight incontinence briefs, washable reusable underpads and a full sheet package that includes a fitted sheet, flat sheet, draw sheet and pillow case. This complete set allows you to stay ahead of any incontinence issues you may be experiencing in your home.
Home Care Incontinence Mattress
The 100% virgin densified polyester fiber core technology provides superior pressure redistribution compared to traditional innersprings. The smooth, soft, and breathable cover is offered in a nylon to maximize comfort and therapeutic sleep.
This versatile home care sleep surface is light weight and affordable while always maintaining quality and health standards.
Fiber core technology mattress properties and benefits include:
Nylon Cover Suggested as Best Barrier for Fluids
Durable nylon cover is water proof and perfect for bed-wetting protection
Easy to Clean and Perfect for Adults and Children
Removable Polypropylene Zippered Cover
Soft and durable polyester fiber core construction
Durable
Inverted Seams for patient comfort and caretaker convenience when disinfecting
Maintains cool, dry, and soft feel to maximize patient comfort
Weight capacity: 300 lbs
One (1) year non-prorated warranty
Washable Reusable Incontinence Underpad
2 Pack of Pink Underpad

This durable, comfortable twill facing underpad resists staining
Vinyl knit barrier withstands the heavy demands of multiple washing and drying cycles while staying soft and leakproof
Absorbency Level: Moderate
Soaker Ounces: 8 Fl. Oz.
Face Fabric Material: 55% Cotton/ 45% Polyester

Measures 34″ x 36″ inches

Great for adults and children
DiaMedical USA Sheet Package – T130
Fitted Sheet – CDR20M-36809INV
Flat Sheet – CDR20M-66104INV
Draw Sheet – CDR20M-5481INV
Pillow Case – CDR20M-PCINV
FitRight Stretch Ultra Brief – (Quantity 20)
FitRight Stretch Ultra Brief promotes a discreet, comfortable, garment-like fit meant to enhance patient dignity, mobility and independence
Flexible stretch panels stretch for a secure and comfortable fit that enhances patient comfort and improves ease of use for staff
Gold Series Core with odor protection wicks fluid away quickly to promote dryness and help maintain skin integrity
Soft antileak guards reduce leakage and improve containment
Active hip-protect side panels were designed to help protect skin from excess friction and pressure
Moisture alert wetness indicator changes color when garment has been soiled
Ultra-soft cloth-like backsheet; Skin-safe closures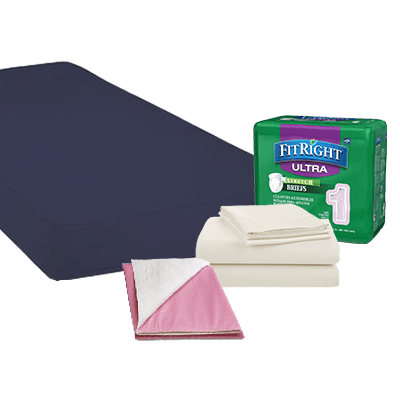 Fluid
Resistant

Anti
Microbial

Lock Tight
Zipper