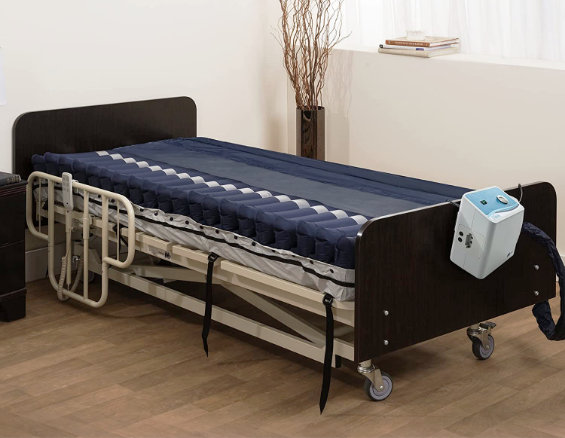 Utilizing Alternating Pressure Mattresses for Decubitus Ulcer Management: Therapeutic Support Surfaces
Therapeutic support surfaces and patient repositioning are essential components of decubitus ulcer prevention and treatment.  One strategy to relieve pressure against the skin is the use of powered alternating pressure mattresses.  They automatically shift the patient's body weight every few minutes when manual repositioning is not sufficient.  Some alternating pressure mattresses are even available with low air loss to help manage moisture levels against the skin.  But what are the benefits of these therapeutic support surfaces?  In this article, we will explain the benefits and indications of alternating pressure mattresses in order to meet the needs of your patients and help with Decubitus Ulcer Management.
Active and Reactive Therapeutic Support Surfaces 
A wide variety of pressure relieving mattresses are available to help prevent decubitus ulcer formation (1, 2). Non-powered reactive mattresses redistribute the patient's body weight so that a large portion of the patient's body surface is in contact with the mattress to reduce pressure to vulnerable areas.  In contrast, alternating pressure mattresses are electrically powered active support surfaces that mechanically vary the pressure beneath the patient's body (1, 2, 3, 4). They feature a series of air cells that run horizontally across the sleep surface from one side of the bed to the other.  These cells inflate and deflate in a rotating pattern so that no area of the patient's body experiences prolonged periods of pressure.  Alternating pressure mattresses are largely considered the gold standard for decubitus ulcer prevention (5). 
Benefits of Alternating Pressure Mattresses 
Alternating pressure mattresses have been shown to be superior to viscoelastic foam mattresses for preventing skin breakdown in vulnerable, high risk patients. They are also more effective for facilitating the healing process of existing wounds and decubitus ulcers (6, 7, 8). The inflated air chambers allow better heat convection to help keep the skin cool and dry (8).  In addition, these mattresses minimize the reactive hyperemia (erythema) reaction that occurs after sustained pressure to skin areas (3).  
Alternating Pressure Mattresses with Low Air Loss
Some hybrid mattresses offer alternating pressure with low air loss features. They have forced air that continually flows through tiny pinholes within the mattress. This creates a microclimate between the patient's skin and the mattress cover to balance temperature and moisture levels. Patients with diaphoresis, incontinence or copious wound drainage benefit from low air loss therapy.  Overall, alternating pressure mattresses with low air loss are excellent options for treating existing pressure wounds, especially for bariatric patients (10). 
Selecting Alternating Pressure Mattresses for Decubitus Ulcer Management
The type of therapeutic support surface needed for a patient depends on a number of factors including advanced age, poor nutritional status, hemodynamic instability, and comorbidities.  
As a rule, alternating pressure mattresses are appropriate for patients at highest risk for skin breakdown or who have existing decubitus ulcers (5, 7, 8, 10, 11).  This includes: 
Patients with Braden Mobility Subscale scores of 1 or 2 and Moisture Subscales of 3 or 4 

Patients with multiple stage 2 pressure ulcers on the torso that have worsened over the past month 

Patients with large or multiple stage 3 or 4 pressure ulcers on the torso

Patients who have had skin graft surgery within the past 60 days to repair a pressure ulcer on the torso
Hybrid alternating pressure/low air loss mattresses should be used for patients with Braden Moisture Subscales of 1 or 2.  The constant air flow is needed to facilitate evaporation and maintain a therapeutic microclimate against the patient's skin. 
Key Takeaways
The evidence clearly shows that therapeutic support surfaces play a key role in decubitus ulcer prevention and treatment.  Alternating pressure mattresses are appropriate for patients who are at highest risk for skin breakdown or have pre-existing wounds.  Hybrid mattresses with both alternating pressure and low air loss are indicated for these patients with excessive moisture against their skin.  These mattresses should be used as part of a comprehensive skin care program that includes nutritional support, exudate management, and surgical intervention as appropriate. 
MedMattress Alternating Pressure Mattresses
MedMattress medical support surfaces are designed to be simple for clinicians to select the appropriate mattress or surface for their patients needs. Our collection of alternating pressure mattresses are designed to prevent pressure ulcers, treat bed sores and enhance patient comfort through their multi-zoned cores. We provide bedridden patients, or individuals with limited mobility, a quality solution to help treat or prevent skin breakdown and pressure ulcers. 
At MedMattress, we believe that better support surfaces improve patient outcomes. By providing patients with an appropriate support surface for their risk level, clinicians can improve wound care management and enhance positive outcomes. 
References
Brown, S., Smith, I., Brown, J., Hulme, C., … Nixon, J. (2016). Pressure Relieving Support Surfaces: a Randomised Evaluation 2 (PRESSURE 2): Study protocol for a randomised controlled trial.

Trials, 17,

604.

Nixon, J., Cranny, G., Iglesias, C., Nelson, E., … Cullum, N. (2006). Randomised, controlled trial of alternating pressure mattresses compared with alternating pressure overlays for the prevention of pressure ulcers: PRESSURE (pressure relieving support surfaces) trial.

BMJ, 332

(7555), 1413. 

Shi, C., Dumville, J., Cullum, N., Rhodes, S., . McInnes, E. (2021). Beds, overlays and mattresses for treating pressure ulcers. 

Cochrane Database of Systematic Reviews, 2021

(5), CD013624.

Vanderwee, K., Grypdonck, M., & Defloor, T. (2005). Effectiveness of an alternating pressure air mattress for the prevention of pressure ulcers.

Age and Ageing, 34

(3), 261-267. 

Ahtiala, M., Kivimaki, R., Laito, R., & Soppi, E. (2020). Effect of mattress deployment on pressure ulcer development: A real world observational cohort experience.

Wounds International, 11

(1), 10-17. 

Sauvage, P., Touflet, M., Pradere, C., Portalier, F., … Scherrer, B. (2017).

Pressure ulcers prevention efficacy of an alternating pressure air mattress in elderly patients: E²MAO a randomised study.

Journal of Wound Care,

26

(6), 304-312.

McInnes, E., Jammali-Blasi, A., Bell-Syer, S., Dumville, J., … Cullum, N. (2015). Support surfaces for pressure ulcer prevention. 

Cochrane Database of Systematic Reviews, 2015

(9): CD001735.

Tomova-Simitchieva, T., Lichterfeld-Kottner, A., Blume-Peytavi, U., & Kottner, J. (2018). Comparing the effects of 3 different pressure ulcer prevention support surfaces on the structure and function of heel and sacral skin: An exploratory cross‐over trial.

International Wound Journal, 15

(3), 429–437.

Serraes, B., van Leen, M., Schols, J., Van Hecke, A., … Beeckman, D. (2018). Prevention of pressure ulcers with a static air support surface: A systematic review.

International Wound Journal, 15

(3), 333-343.  

De Camargo, W., Pererira, R., Tanita, M., Heko, L., … Grion, C. (2018). The effect of support surfaces on the incidence of pressure injuries in critically ill patients: A randomized clinical trial.

Critical Care Research and Practice, 2018,

3712067.

McNichol, L., Mackey, D., Watts, C., & Zuecca, N. (2020).  Choosing a support surface for pressure injury prevention and treatment.

Nursing 2022, 50

(2), 41-44.