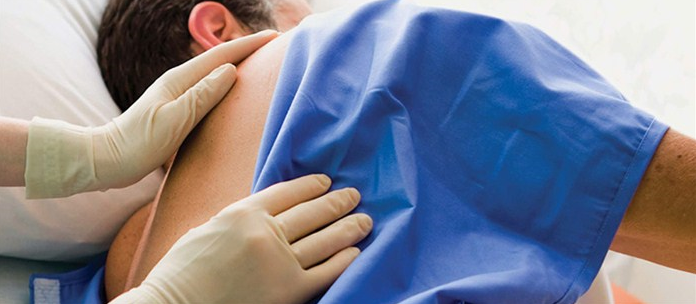 Types of Dressings For Decubitus Ulcers
The days of plain gauze are long gone in favor of advanced materials that can absorb large amounts of drainage without the need for frequent dressing changes. Decubitus ulcer dressings provide optimal and advanced care for healing and protecting the wounds from worse conditions and infection. Some dressings can even provide thermal insulation, optimize the pH of the wound bed, and remove proteases from wound fluid. This article will provide a brief overview of the main types and their indications for use. 
Stage I Ulcers – Intact Skin with Non-Blanchable Redness
Thin hydrocolloid dressings are made of a gel material that is attached to a semi-permeable foam backing. They are absorbent, self-adhesive, and available in a wide variety of shapes, sizes, and thicknesses. Thin hydrocolloid dressings have tapered edges that make them less likely to wrinkle or roll when the patient is repositioned. They also have a slick outer surface that reduces the friction coefficient between the support surface and the patient (this helps reduce shear and friction transmitted to the underlying skin when the patient is moved). Thin hydrocolloid dressings help prevent a stage I pressure ulcer from progressing to a deeper wound.  Semi-transparent hydrocolloid dressings are ideal for stage I ulcers because clinicians can monitor for further skin breakdown without removing the dressing (1,2).  
Stage II Ulcers – Partial Thickness Skin Loss
Thick hydrocolloid dressings have been widely used to manage stage II pressure ulcers. They promote angiogenesis and create a moist wound environment that is known to be beneficial for wound healing. Another feature of hydrocolloid dressings is that they are waterproof to provide a secure barrier against viral and bacterial microorganisms, including MRSA. This is very important when they are used in areas such as the sacrum that are frequently contaminated with urine or stool. The hydrocolloid material turns into a gel when exudate is absorbed, preventing fluid from accumulating on the wound bed.  Hydrocolloid dressings are ideal for managing clean, shallow granulating pressure ulcers.  Thicker hydrocolloid dressings are most appropriate for wounds with moderate levels of drainage. Thin dressings are typically reserved for ulcers with minimal exudate (1,2,3).  
Stage III and IV Ulcers – Full Thickness Skin Loss with Visible Underlying Tissues
Full thickness decubitus ulcers have underlying muscle, bone and/or adipose tissue visible and typically require highly absorbent dressings to manage exudate. Hydrofiber dressings are made from soft, absorbent material that transforms into a gel when it comes in contact with wound drainage. This gelling action traps bacteria and maintains optimal levels of moisture within the wound for healing. Calcium alginate dressings are made from seaweed fibers that have been formed into a loose fleece. The fibers are entangled so that the dressing becomes stronger when it becomes soaked with blood or drainage. Calcium alginate sheets can be placed on surface wounds while ribbons are used to pack deep tunneling ulcers. Both hydrofiber and calcium alginate dressings require a secondary dressing to hold them close to the wound bed (1,2,3).
Key Takeaway
There are many advanced treatment options for all stages of decubitus ulcers. Hydrocolloid dressings are ideal for superficial stage I and II ulcers because they reduce shear and friction while protecting the area from contamination by stool and urine. Full thickness stage III and IV ulcers require dressings that are able to absorb large amounts of exudate. Hydrofiber and calcium alginate dressings are ideal for this purpose and can even be used as packing in tunneling wounds. Of course dressings are just one component of decubitus ulcer treatment.  MedMattress therapeutic support surfaces help promote healing of painful pressure ulcers by redistributing pressure, reducing shearing forces and controlling the local microclimate. Clinicians and caregivers' pressure injury prevention protocols should include careful selection of appropriate support surfaces in addition to risk assessment tools, repositioning schedules and meticulous skin care. Our entire collection of MedMattress medical support surfaces are designed to be simple for clinicians to select the appropriate mattress or surface for their patients needs. 
At MedMattress, we believe that better support surfaces improve patient outcomes. By providing patients with appropriate support surfaces, clinicians can improve wound care management and enhance positive outcomes. 
References
Fletcher, J., Moore, Z., Anderson, I., & Matsuzaki, K. (2011).  Hydrocolloids and pressure ulcers made easy. 

Wounds International, 2

(4).  

Westby, M., Dumville, J., Soares, M., Stubbs, N. & Norman, G. (2017). Dressings and topical agents for treating pressure ulcers.

Cochrane Database of Systematic Reviews,

6, CD011947.

National Health Service. (2020).

Treatment of pressure ulcers

. Retrieved from

https://www.nhs.uk/conditions/pressure-sores/treatment/