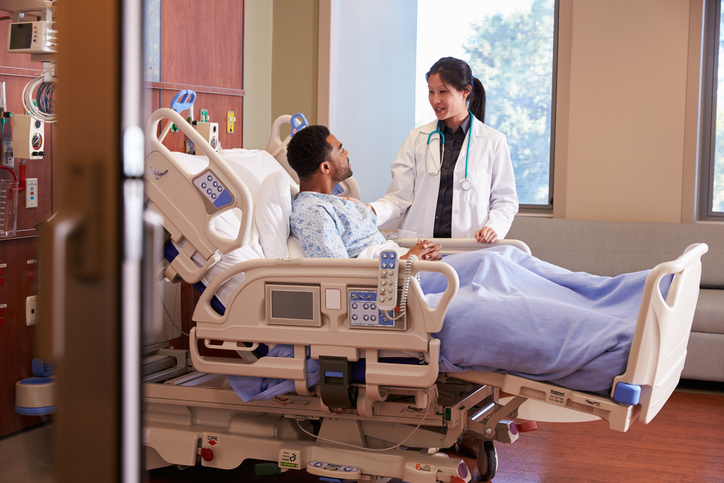 Protecting Patients' Skin with Hospital Bed Mattresses: Better Support Surfaces, Better Patient Outcomes
MedMattress is dedicated to providing high-quality therapeutic support surfaces and medical mattresses. The MedMattress Care Collection features foam hospital bed mattresses that were created to align with the Braden Scale and provide sleep solutions for every patient's risk level. Our therapeutic mattresses offer optimal patient comfort and support. 
Patients who are at risk for skin breakdown require advanced sleep surfaces like multi-density foam mattresses that provide both support and comfort. They have been shown to be more effective than standard hospital bed mattresses for preventing decubitus ulcers and are less expensive than alternating pressure systems. But what are the benefits of layering different types of foam? This blog posting will help you differentiate between different types of multi-layered foam mattresses to meet the needs of your patients.
What is the Density of a Foam Mattress?
A mattresses foam density describes the mass of one cubic foot of a memory foam later and is express in pounds. The density of a foam mattress refers to its ability to support a person's body rather than its thickness or firmness. A mattress with a higher density will feel heavier and more solid than a lower density mattress. Higher density foams offer the most support and body contouring but they don't return to their original shape very quickly. Lower density foam mattresses have more air pockets inside so they bounce back faster when the patient changes position. They also allow greater airflow through the top surface to trap less of the patient's body heat.  
What are Multi-Density Foam Mattresses? 
Multiple types of foam are combined to provide a comfortable, protective sleep surface for patients who are at risk for decubitus ulcers. Hospital bed mattresses with a single layer of foam can be either too soft to provide enough support or too hard to protect fragile skin areas. MedMattress Care mattresses feature low-density memory foam layers on the top for comfort with high-density foam layers underneath for balanced support. These allow optimal pressure redistribution and skin protection for the patient's body. 
Using the Braden Scale to Choose the Proper Mattress for Your Patients
The Braden Scale has been used for more than two decades to identify and quantify risk for developing pressure ulcers on a scale of 6 to 20.  Patients at highest risk for pressure injuries have the lowest scores on the Braden Scale.  The MedMattress Care line makes it easy for clinicians to select the appropriate support surface for each of their patients.  As shown below, the dual-layered Care and Care Plus are mattresses are appropriate for patients with high Braden scores who are considered to be at low risk for skin breakdown.  The tri-layered Pro Care, Advanced and Ultra mattresses are designed for moderate to high risk patients. 

The Plus Care dual-layered, multi-density mattress has a layer of performance soft form on top of a supportive base foam. It is designed for patients who are at low or moderate risk for skin breakdown. The heel section has a layer of ultra-soft memory foam for increased pressure redistribution and blood circulation. The Pro Care and Advanced Care mattresses provide additional protection for moderate to high risk patients in critical care areas. Finally, the tri-layered Ultra Care offers maximum pressure redistribution, postural support and heat dissipation for high-risk patients. All Care mattresses are created with CertiPUR-US® certified foam that meets the highest standards of quality and durability.
Conclusion
By providing patients with appropriate hospital bed mattresses designed for their assigned risk level you can improve the quality of healthcare and increase positive patients outcomes. The MedMattress Care Mattresses are constructed with varying layers and densities of medical grade foam to help protect patient from skin breakdown and provide a budget conscious alternative to alternating pressure mattresses. MedMattress has carefully crafted the Care line of foam hospital bed mattresses to offer optimal support and comfort for patients at risk of decubitus ulcers. They feature layers of high and low density foam that gently support the patient's body, dissipate heat and promote blood circulation. MedMattress offers bariatric mattresses, the Bari Care and Bari Ultra Care mattress, for patients who weigh up to 1,000 lbs. The MedMattress team is ready to help facilities balance cost and functionality while protecting their patients from pressure injuries. 
References
Cullum, N., McInnes, E., Bell-Syer, S., & Legood, R. (2015). Support surfaces for pressure ulcer prevention. Cochrane Database of Systematic Reviews, 9, CD001735.
Kirman, C. (2020). Pressure injuries (Pressure ulcers) and wound care treatment & management. Retrieved from https://emedicine.medscape.com/article/190115-treatment#d1