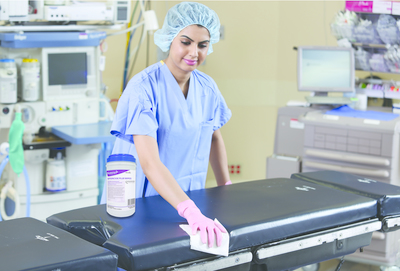 Mattress Contamination and Infection Control
Patient Safety Concerns
Healthcare facilities wipe down and disinfect all mattresses between patients to prevent the spread of infection. Because it is protected by the cover, the mattress core is not cleaned. If the integrity of the mattress cover becomes compromised, however, blood and bodily fluids may become trapped inside the core. These fluids can leak out when the mattress is used by the next patient, posing a risk of infection. In fact, contaminated mattresses have led to healthcare-associated infections from antibiotic-resistant bacteria including ESBL and MRSA. Ultimately, mattress contamination may go unrecognized and unreported until fluids are seen oozing from the mattress surface (1,2,3).  
Mattress Covers
Using mattresses beyond their expected service life can contribute to core contamination because covers wear out over time and lose their resistance to fluids. Furthermore, incompatible disinfectants can cause damage or degradation of the cover, which may not be immediately apparent. This may occur when manufacturers fail to specify which products should be used to clean the cover (1,2). In order to ensure that mattress cores stay hygienic, covers should be inspected every time they are cleaned between patients. Signs that a mattress cover has become compromised include: 
Visible damage such as cuts, tears, snags, and stains

Shorter than normal drying time during cleaning, which could indicate that fluids have entered core rather than remaining on the cover

Increased mattress weight due to fluid accumulation within the core (2)
If your mattress cover all the signs of degradation, consider replacing your cover with a MedMattress Veri Vinyl or Veri Nylon cover to turn any mattress waterproof and bed-bug resistant.
Recommendations for Patient Safety
All healthcare facilities, including acute care hospitals, outpatient centers, and long-term care facilities, must institute effective processes to protect patients from contaminated mattresses. This requires a team approach: 
Environmental services directors ensure that cleaning and disinfecting protocols are compliant with the manufacturer's guidelines.

Purchasing coordinators avoid obtaining mattresses from suppliers that do not provide adequate information about reprocessing. 

Environmental services associates inspect the top, bottom and sides of each mattress during every terminal room cleaning. 

Infection control and prevention staff confirm that disinfectants are effective against hepatitis B, human HIV-1,

C. difficile

, and tuberculosis per EPA guidelines. 

Biomedical technicians inspect mattresses and covers as part of preventative maintenance programs for hospital beds.

Asset managers tag and track mattresses and covers to ensure that they are decommissioned at the end of their expected service lives (1,2). 
MedMattress Recommendations for Use
Clean the top, bottom and sides of the cover with mild soap and water and a soft cloth to remove dirt and foreign substances. Rinse off the remaining soap with clean water to avoid deterioration of the cover. 

Inspect the mattress and cover for cuts, rips, tears, or cracks at every patient change, cleaning, or at a minimum every month. 

Replace worn or damaged mattress components that do not meet inspection criteria, including ripped or torn covers. The foam core must be replaced if it has been soiled or damaged by moisture.

Healthcare facilities can use Quaternary Ammonium Chloride, Phenolic, Bleach, and Alcohol disinfectants to clean the cover. A list of recommended chemical classes and active ingredients is included in the MedMattress user manual. 
Key Takeaway
Healthcare facilities can protect patients from contaminated mattresses by implementing comprehensive cleaning and inspection protocols. Cleaning products must have sufficient antimicrobial effectiveness  
References
ECRI Institute. (2018).

ECRI update: A hazard lurking beneath the surface: Mattress and mattress cover contamination.

Retrieved from

https://1technation.com/ecri-update-a-hazard-lurking-beneath-the-surface-mattress-and-mattress-cover-contamination/

Pennsylvania Patient Safety Authority. (2018). How wet is your patient's bed? Blood, urine, and microbiological contamination of mattresses and mattress covers.

Pennsylvania Patient Safety Advisory

, 15

(4).
U.S. Food and Drug Administration. (2017). Covers for hospital bed mattresses: Learn how to keep them safe. Retrieved from https://www.fda.gov/medical-devices/hospital-beds/covers-hospital-bed-mattresses-learn-how-keep-them-safe