Veri Nylon Zippered Mattress Cover
From: $77.99

*Additional Shipping Charges Apply

Design a custom mattress to fit your exact needs!
Product Description
Veri Nylon Waterproof Zippered Mattress Cover
MedMattress.com provides a quality bedding solution for residence halls, dormitories, residence halls, camps, shelters, and more. Our heavy-duty, waterproof zippered nylon mattress covers are made of a durable 210 Denier Navy Nylon and protect your mattress from spills and stains.
Before leaving our warehouse, all covers are tested for quality assurance. We have a wide variety of sizes available and all are fire retardant, hypoallergenic to protect against allergies, antibacterial, waterproof, and have a zippered closure.
FLUID & STAIN RESISTANT – Nylon mattress cover provides weather protection and encasement from a variety of fluids including urine and other liquids.
Our 210 denier nylon cover is fluid and stain-resistant. The seams are inverted for bed bug resistance.
210 Denier Nylon Cover
Fully Sealed Nylon Cover
Cool, Breathable Fabric
Fluid resistant
Zippered Closure
Antistatic
Antibacterial
Durable
Stain Resistant
Mold/Mildew Resistant
NonAllergenic
Bed Bug Resistant Inverted Seams
Care: Cleanable With Soap & Water Do Not Use Bleach
Made in the USA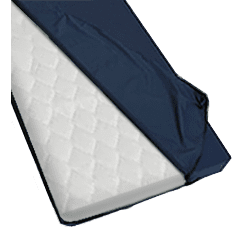 Fluid
Resistant

Anti
Microbial

Bed Bug
Resistant