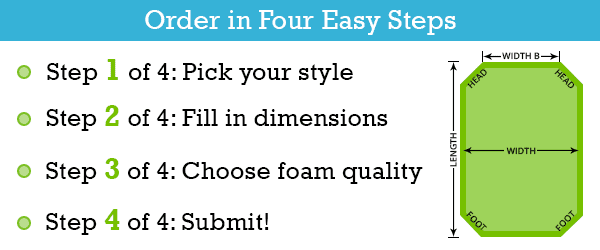 4 Easy Steps to Customize Your Mattress
Whether it is bunk beds, hospital beds, EMS cots, or vintage model stretchers, we often struggle to find a replacement mattress to fit our sleep surfaces that still have some years left in them. The debate of whether or not it is worth it to replace the entire sleep unit starts to weigh in, but ultimately, it is too expensive. In these circumstances, it will save you time and money to fill out our custom sizing form and order a mattress created just for you. Below are our 4 easy steps to fill out our custom sizing form in order to customize your mattress:
Select the style of your mattress. For residence halls, camps, or general patient ICU/CCU locations, your mattress will most likely be style A for the standard rectangle shape. With stretcher pads or EMS cot mattresses, it is more likely that you will select style B or C, with either all four corners tapered or two corners tapered.
Provide the specific dimensions of your mattress for the length, width, and the depth/thickness. If your mattress or stretcher pad has tapered corners, please also provide the measurements of the tapered corners in the head/foot measurement section. From there, you will be given the option of "Foam", "Innerspring", or "Cover Only" for you to choose from.
Select the quality of foam you require. This is more frequently applicable for the hospital grade mattresses such as stretcher pads, general patient med surge, and/or acute care sleep surfaces. The three levels of comfort we provide are: standard foam, plus foam, and premium foam.
Provide your contact information and we will send you a formal quote! If you are unsure of any of the previous steps you went through, let us know in the message portion of the form. The message section is also a great place to indicate whether you are requesting a nylon or vinyl cover if you're looking for the camp/dormitory style mattresses or mattress covers.