Veri Vinyl Zippered Mattress Cover
From: $68.99

*Additional Shipping Charges Apply

Design a custom mattress to fit your exact needs!
Product Description
Veri Vinyl Waterproof Zippered Mattress Cover
MedMattress.com provides a quality bedding solution for residence halls, dormitories, residence halls, camps, shelters and more. Our heavy-duty, waterproof zippered vinyl mattress covers are made of a durable 10 Gauge Green Vinyl and protects your mattress from spills and stains.
Before leaving our warehouse, all covers are tested for quality assurance. We have a wide variety of sizes available and all are fire retardant, hypo-allergenic to protect against allergies, anti-bacterial, waterproof, and have a zippered closure.
Our 10 ounce vinyl cover is fluid and stain resistant. The seams are inverted for bed bug resistance.
10 Gauge Green Vinyl Cover
Fully Sealed Vinyl Cover
Fluid resistant
Anti-static
Anti-bacterial
Durable
Mattress Protector
Stain Resistant
Fire Retardant
Non-Allergenic
Bed Bug Resistant Inverted Seams
Zippered
18×12 300Dx500D PET Scrim
Finished Basis Weight 10 ounces per square yard +/- 10% ASTM D3774-96
Tensile Strength MD 116 pounds +/- 10% ASTM 5100
CD 112 pounds +/- 10% ASTM 5100
Tear Strength MD 38 pounds +/- 10% ASTM D5134
CD 37 pounds +/- 10% ASTM D5134
Flame Propagation Self Extinguish Maximum PCC LP-100-2
Care: Wipe Clean with Damp Cloth
Made in the USA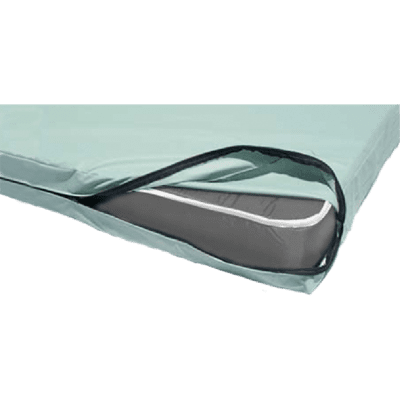 Fluid
Resistant

Anti
Microbial

Bed Bug
Resistant