Stryker Prime Series Big Wheel 1115 30″ Width Stretcher Pad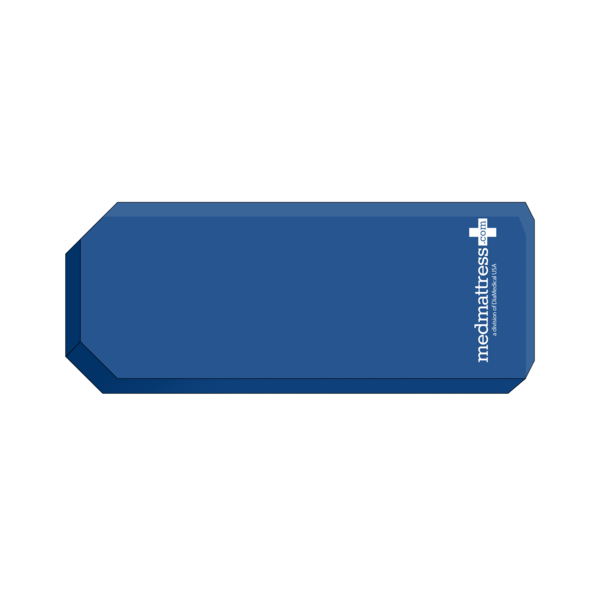 From: $286.99

*Additional Shipping Charges Apply

Design a custom mattress to fit your exact needs!
Product Description
MedMattress Stretcher Mattress for Stryker Prime Series Big Wheel 1115 30″ Width Stretcher
MedMattress offers the Standard Foam, MedComfort Foam and MedUltra Pressure Redistribution Foam line of stretcher pads & gurney pads for the most popular stretchers and gurneys. MedMattress Replacement Stretcher Pads provide solutions for a variety of clinical and budget needs. When selecting which replacement stretcher mattress is right for you, keep in mind that stretchers and gurneys are moved throughout the hospital frequently which means your pad needs to combine both comfort and durability.
Depending on your needs, MedMattress offers both budget friendly stretcher pads are available with standard foam that will provide the patient with a comfortable place to rest and premium stretcher pads with pressure redistribution foam which is intended to reduce the risk of bedsores. All MedMattress mattresses are created with CertiPUR-US® certified foam to ensure the highest quality mattress for your patients.
MedMattress offers custom sizing for any stretcher pads, gurney pads and cot pads.
Specifications
MedMattress Stretcher & Gurney Pads designed specifically as a replacement for Stryker Prime Series Big Wheel 1115 30″ Width Stretcher
Nymed™ healthcare grade nylon cover features a permanent polyurethane coating providing additional fluid resistance while maintaining integrity and soft-to-the-touch feel
Vynmed™ healthcare grade vinyl cover is extremely durable and features a permanent polyurethane coating and a tear-resistant double-sided coating
Anti-contamination, fluid protection flap redirects fluids away from the zipper reducing the possibility of fluids damaging the foam core
Thermally-sealed secondary fluid barrier ensures foam remains dry and sanitary if outer cover is compromised
FirmEdge™ passive restraint system is specifically designed with two (2) zones of ultra-firm foam to provide extra support during patient entry or egress
CertiPUR-US® foam core is free from mercury, lead and other heavy metals and made without formaldehyde, ozone depleters and PBDEs, TDCPP or TCEP flame retardants
Mattress cover is fluid resistant, antibacterial, antifungal, stain resistant, non-allergenic, self-deodorizing and latex free
Non-skid bottom includes velcro straps to securely keep the pad in place
Conforms to California Technical Bulletin 117 and 121
Weight capacity: 300 Ibs
Warranty: One (1) year standard with extended warranty options available
Foam Quality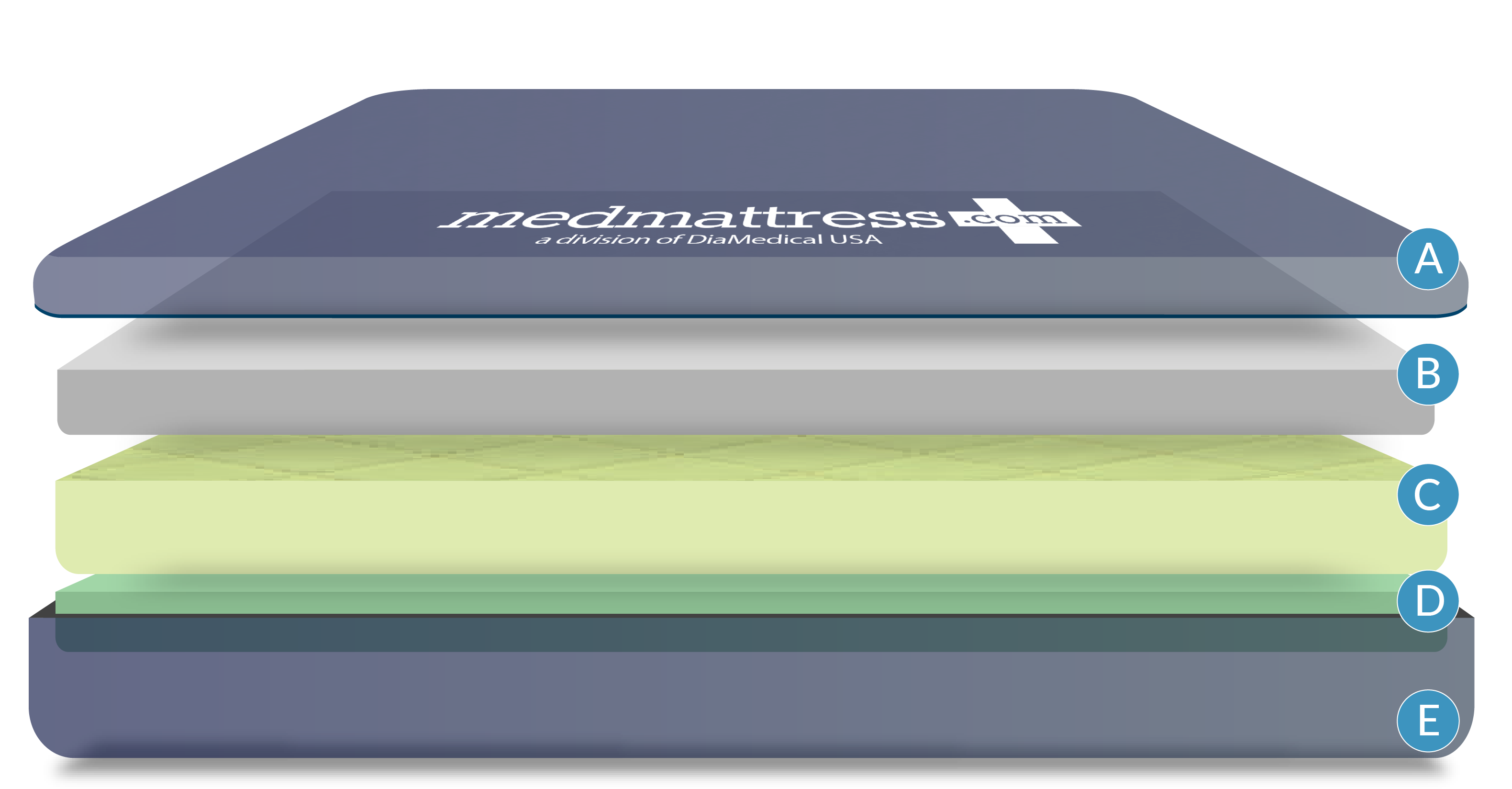 MedMattress Standard Foam
Vynmed™ Healthcare Vinyl Cover
Soft Conforming Foam
Supportive Foam Base
Firm Base Foam
Vynmed™ Healthcare Vinyl Cover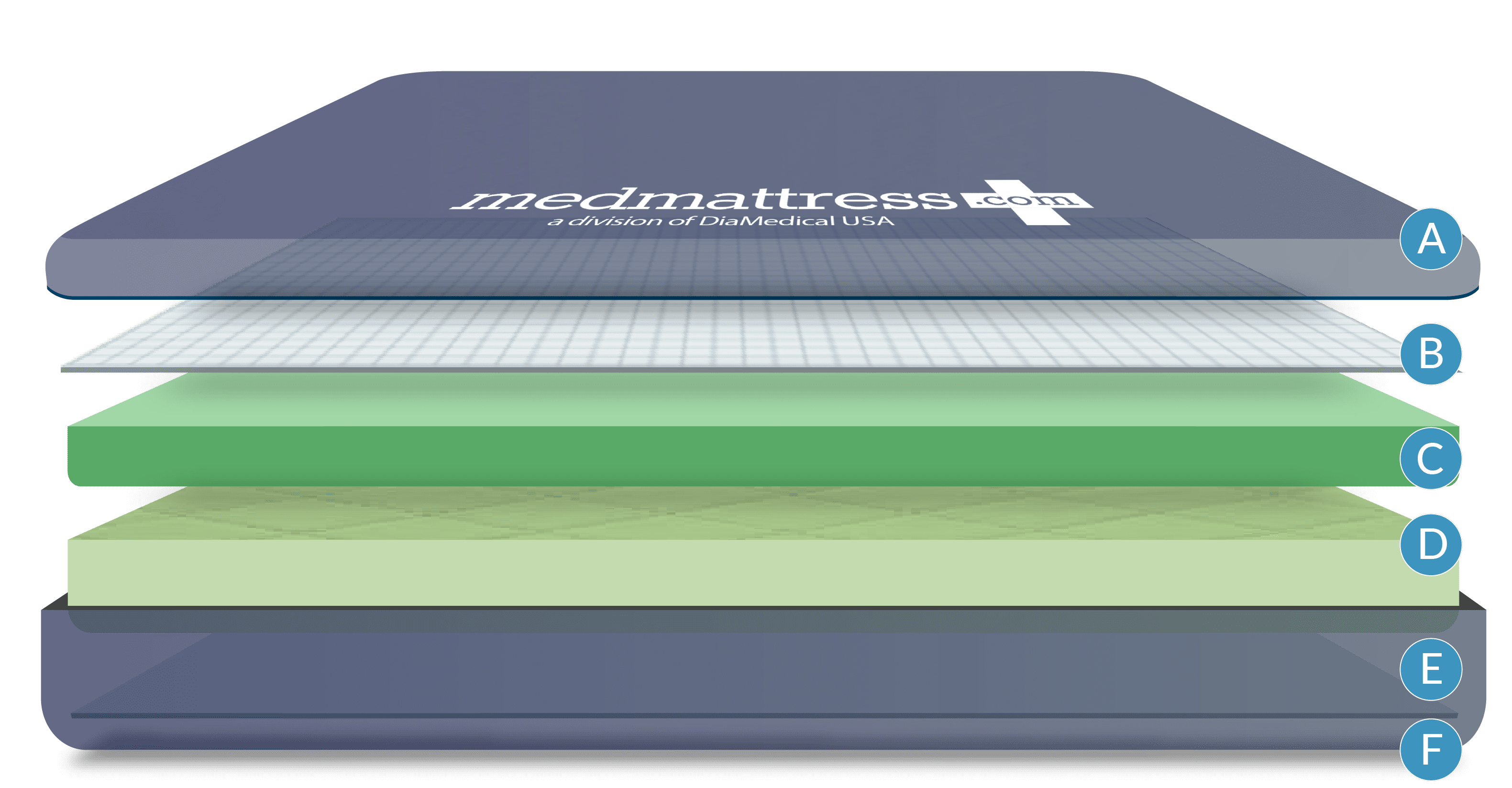 MedMattress MedComfort Foam
Vynmed™ Healthcare Vinyl Cover
Secondary Fluid Barrier
Soft Conforming Foam
Supportive Foam Base
Secondary Fluid Barrier
Vynmed™ Healthcare Vinyl Cover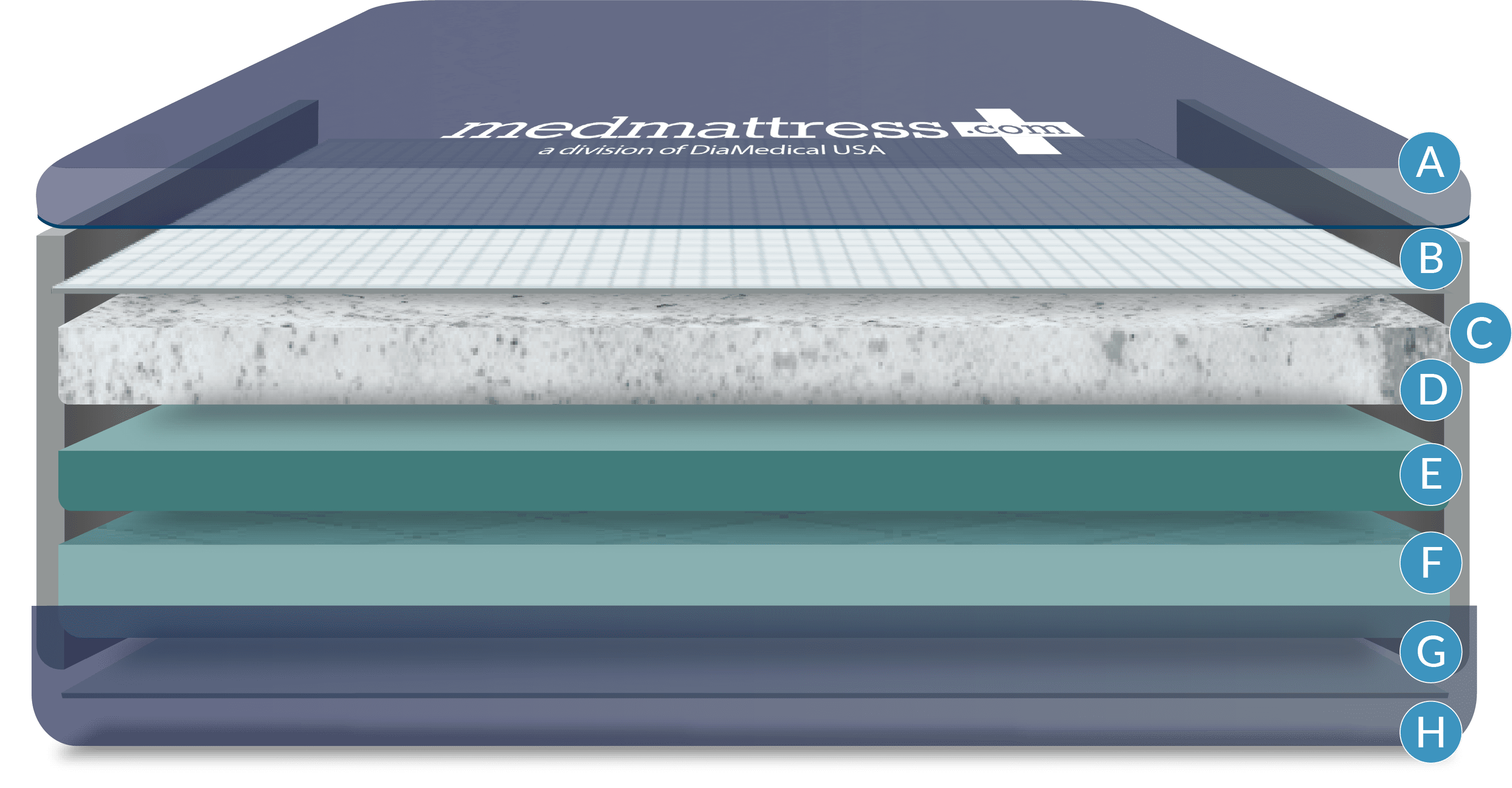 MedMattress MedUltra Foam
Nymed™ Healthcare Nylon Cover
Secondary Fluid Barrier
FirmEdge™ Passive Restraint Layer
Cool-Gel Memory Foam
Soft Conforming Foam
Supportive Base Foam
Secondary Fluid Barrier
Vynmed™ Healthcare Vinyl Cover