MedMattress Seclusion Ultra Mattress

*Additional Shipping Charges Apply

Design a custom mattress to fit your exact needs!
Product Description
MedMattress Seclusion Ultra Mattress for Behavioral Health Facilities
Multi-Density, Cool-Gel Memory Foam with Sealed Seams is Ideal for Patients Requiring Zipperless Mattresses

MedMattress offers our own line of zipperless behavioral health mattresses, commonly known as seclusion mattresses, the Seclusion, the Seclusion Comfort and Seclusion Ultra. MedMattress Seclusion Mattresses were created to meet the unique needs of the patients in mental health or specialized care environments. Most commonly identified by extra safety precautions including eliminating zippers and optional welded seams, mental health mattresses are designed to limit patient access to the support surface's internal components.
Depending on your needs, MedMattress offers budget friendly and premium zipperless mattresses. The MedMattress Seclusion Mattress is a budget-friendly zipperless mattress, ideal for facilities looking to stretch their budget while providing a safe sleeping surface for patients.  The MedMattress Seclusion Comfort Mattress provides patients with a comfortable place to rest with ultrasonic sealed seams for added protection. The MedMattress Seclusion Ultra Mattress is our premium zipperless mattress with advanced pressure redistribution foam and ultrasonic sealed seams.
All MedMattress seclusion mattresses are created with CertiPUR-US® certified foam to ensure the highest quality mattress for your patients. MedMattress offers custom sizing for any behavioral health mattress, seclusion mattress or zipperless mattress.
Specifications
MedMattress Seclusion Comfort Mattresses were created to meet the unique needs of the patients in mental health, behavioral health or specialized care environments
Vynmed™ healthcare grade vinyl cover offers exceptional comfort, is extremely durable and features a tear-resistant double-sided coating
Ultrasonic-sealed seams are completely closed to prevent liquid penetration
Built-in fire barrier protects the foam core and adds an additional layer of fire protection
Super-A-Vent™ built-in waterproof vent system allows air to pass through the cover
FirmEdge™ passive restraint system is specifically designed with two (2) zones of ultra-firm foam to provide extra support during patient entry or egress
CertiPUR-US®, symmetrical foam core is comprised of three (3) layers: Soft Conforming Foam, Performance Soft Foam and High-Density Supportive Base Foam
Designed to last longer than a traditional innerspring mattress
Mattress cover is fluid resistant, antibacterial, antifungal, stain resistant, antistatic, non-allergenic, self-deodorizing and latex free
Conforms to Cal Tech Bulletin 129 and CFR 1633
Weight capacity: 300 Ibs
Warranty: One (1) year standard with extended warranty options available
Foam Quality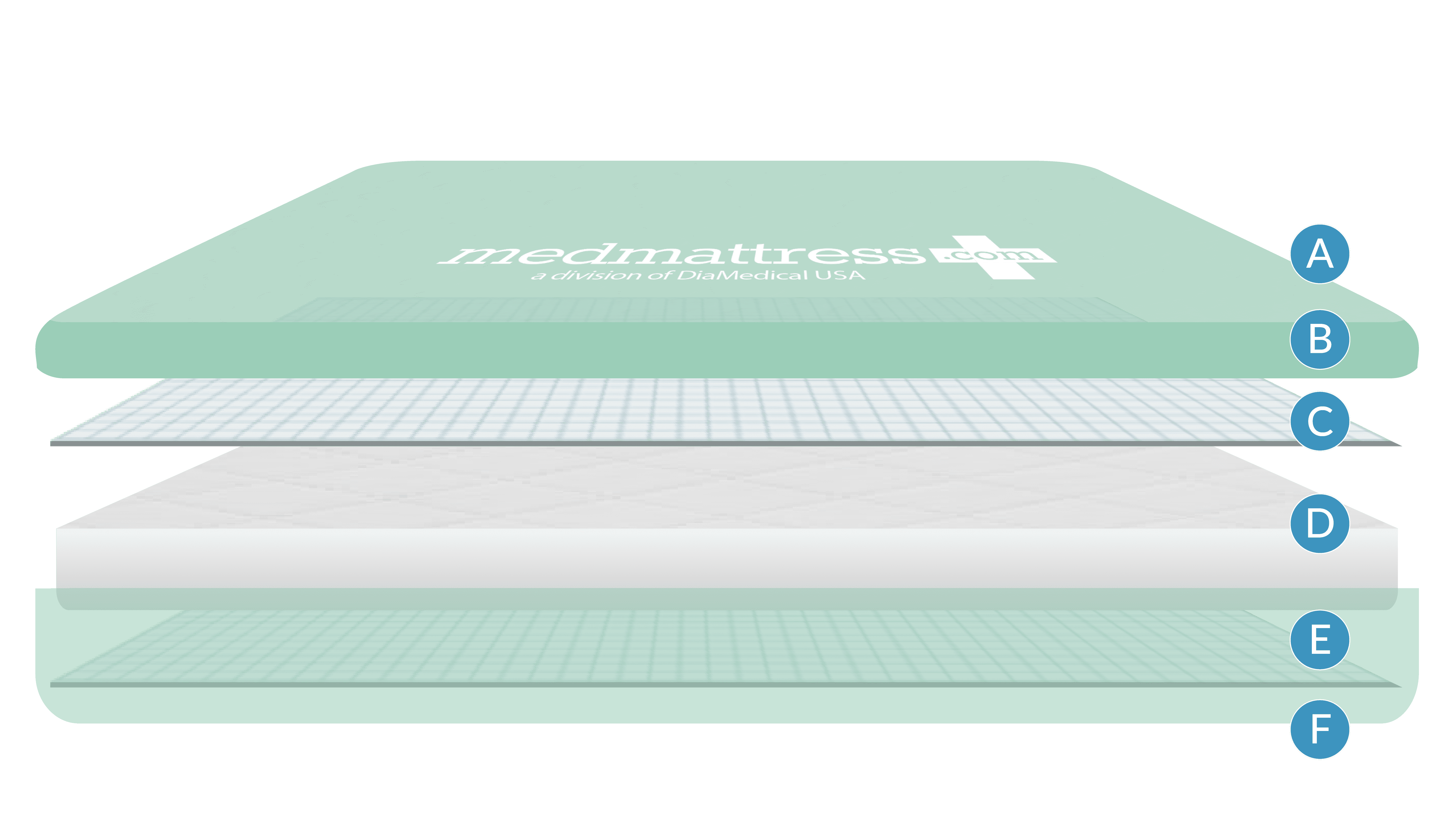 MedMattress Seclusion Foam
Zipperless, Stitched Seams
Healthcare Vinyl Cover
Fire Barrier Layer
6″ Supportive Base Foam
Fire Barrier Layer
Healthcare Vinyl Cover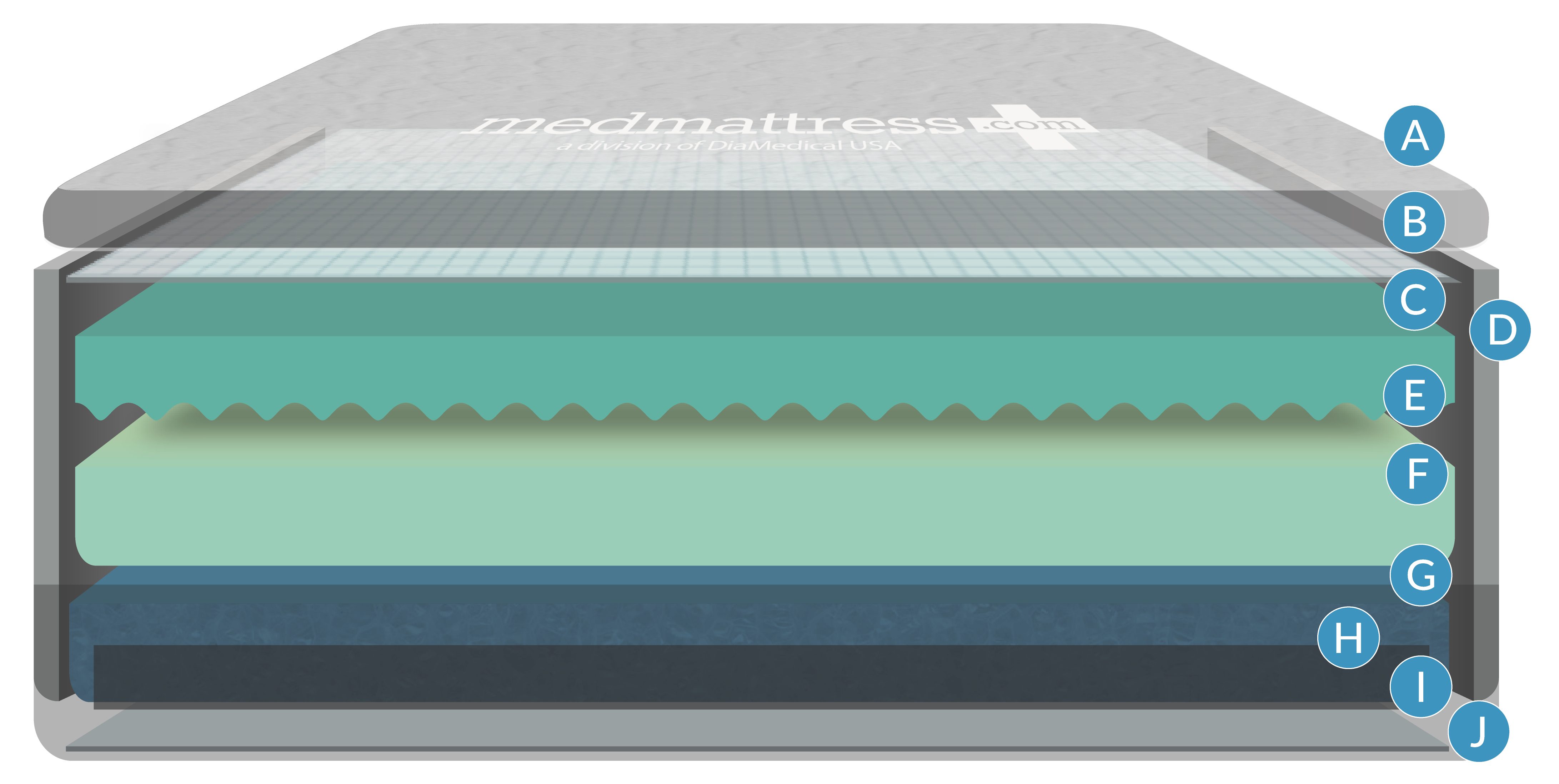 MedMattress Seclusion Comfort Foam
Ultrasonic Sealed Seams
Vynmed™ Healthcare Vinyl Cover
Fire Barrier Layer
FirmEdge™ Passive Restraint System
2″ Soft Conforming Foam
2″ Performance Soft Foam
2″ Supportive Base Foam
Super-A-Vent™ Breathable Vent
Fire Barrier Layer
Vynmed™ Healthcare Vinyl Cover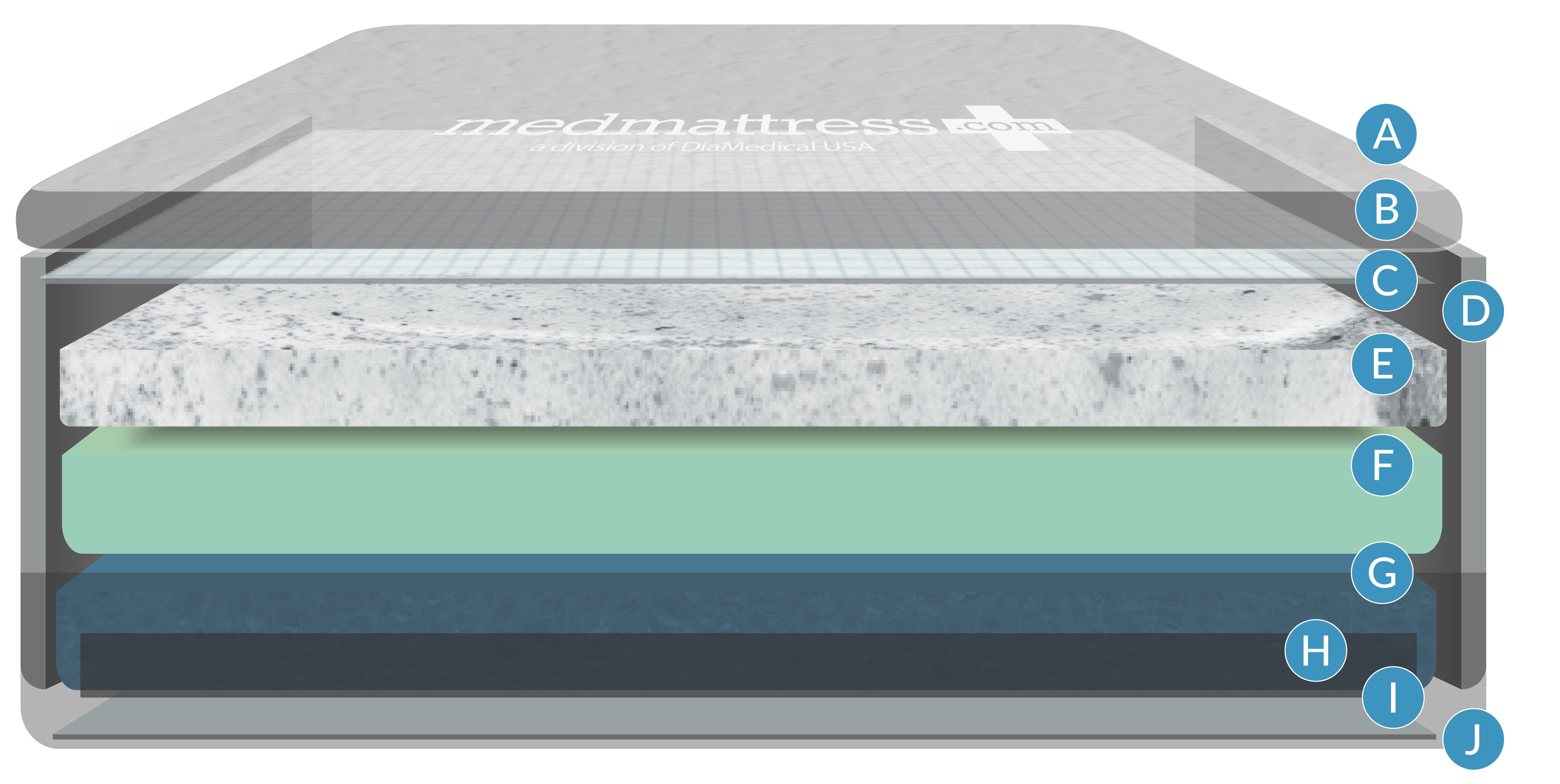 MedMattress Seclusion Ultra Foam
Ultrasonic Sealed Seams
Vynmed™ Healthcare Vinyl Cover
Fire Barrier Layer
FirmEdge™ Passive Restraint System
2″ Cool-Gel Memory Foam
2″ Performance Soft Foam
2″ Supportive Base Foam
Super-A-Vent™ Breathable Vent
Fire Barrier Layer
Vynmed™ Healthcare Vinyl Cover