Hillrom Affinity Replacement Foot Pad U-Cut by MedMattress
From: $507.99

*Additional Shipping Charges Apply

Design a custom mattress to fit your exact needs!
Product Description
MedMattress Labor & Delivery Pads for Hillrom Affinity Birthing Bed
Hillrom Affinity Replacement Foot Pads by MedMattress are designed to withstand the demands of the maternity and birthing process. With patient comfort and sanitation in mind, these support surfaces need to provide optimal support and protection during labor. Birthing mattresses are constructed with temperature sensitive foam for pressure distribution to enhance patient comfort. MedMattress labor & delivery pads features two sections, head and foot. MedMattress Birthing Mattresses utilize Cool-Gel Memory Foam in the head section to provide moms with a little added comfort. Block foam delivers pressure relief across both sections and ultrasonic sealed seams reduce the risk of fluid penetration.
All MedMattress mattresses are created with CertiPUR-US® certified foam to ensure the highest quality mattress for your patients. MedMattress offers the largest selection of labor and delivery mattresses and offers custom sizing for any birthing bed mattress, labor & delivery pad or stirrup pads.
Specifications
MedMattress provides replacement pads for Hillrom Affinity Birthing Bed, Hillrom Affinity 2 Birthing Bed, Hillrom Affinity 3 Birthing Bed and Hillrom Affinity 4 Birthing Bed
Ultrasonic-sealed seams are completely closed to prevent liquid penetration
Vynmed™ healthcare grade vinyl cover is extremely durable and features a permanent polyurethane coating and a tear-resistant double-sided coating
Thermally-sealed secondary fluid barrier ensures foam remains dry and sanitary if outer cover is compromised
CertiPUR-US® foam core is free from mercury, lead and other heavy metals and made without formaldehyde, ozone depleters and PBDEs, TDCPP or TCEP flame retardants
Mattress cover is fluid resistant, antibacterial, antifungal, stain resistant, antistatic, non-allergenic, self-deodorizing and latex free
Medical Grade Attachment Straps with Stainless Steel Snaps on foot section to attach pad to bed
Conforms to California Technical Bulletin 117 and 121
Weight capacity: 300 Ibs
Warranty: One (1) year standard with extended warranty options available
Foam Quality
MedMattress

Birthing

Bed Foot Section Foam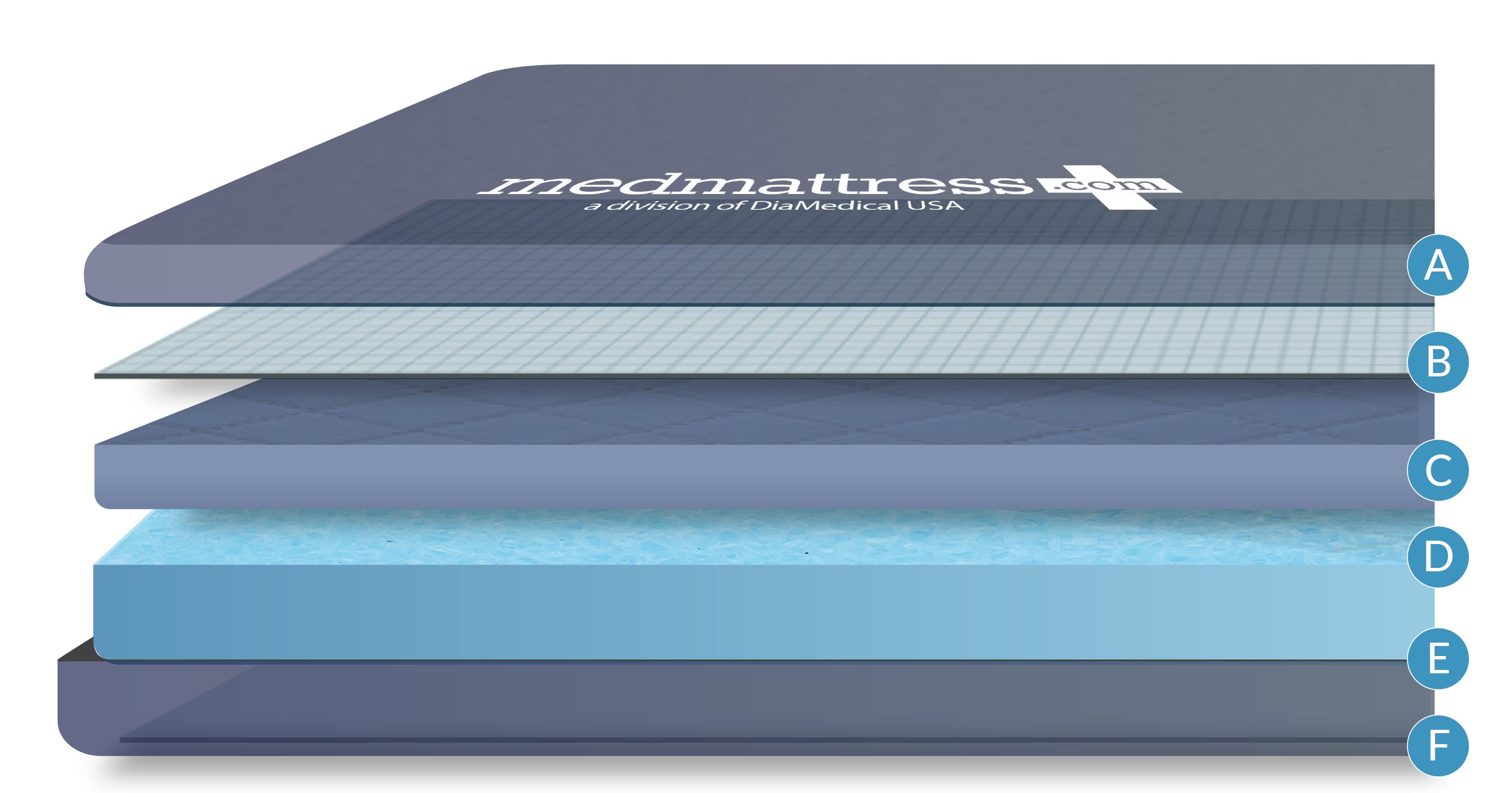 Vynmed™ Healthcare Vinyl Cover
Secondary Fluid Barrier
Soft Conforming Foam
Supportive Base Foam
Secondary Fluid Barrier
Vynmed™ Healthcare Vinyl Cover