Army Folding Bed

*Additional Shipping Charges Apply

Design a custom mattress to fit your exact needs!
Product Description
Army Folding Bed
MedMattress beds and bunks are constructed with high quality material to ensure a safe, sturdy, and durable place to sleep. Offering a variety of furniture, we are able to meet the needs of any camp or residence hall. The Army Folding Bed is a great option because it can be used by itself or stacked with an adapter and transformed into a bunk bed to save space in crowded areas.
Heavy duty steel angle iron frame
2 Cross bars for extra support and comfort
Rust-resistant
Epoxy powder coated finish
Also available in set of 2 beds and 2 foam mats
Army bunk adapters sold separately to use as a bunk bed
Bunk bed ladder sold separately
Bunk bed guardrail 53″ sold separately
For more information about the Army Folding Bed, contact an account manager at (877) 593-6011.
MedMattress is the medical support surface division of DiaMedical USA. We specialize in providing high-quality support surfaces designed to increase positive patient outcomes. We've designed our product catalog to help clinicians pair an appropriate support surface with the patient's risk level to make purchasing simpler and shift focus back onto bedside care.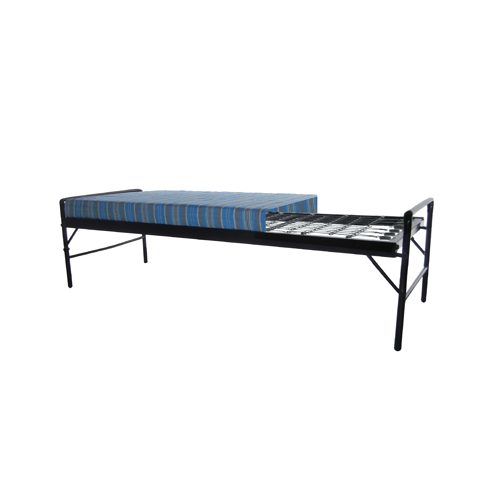 Customers Who Purchased This Also Purchased