MedMattress Bari Ultra Care Hospital Bed Mattress
From: $766.99

*Additional Shipping Charges Apply

Design a custom mattress to fit your exact needs!
Product Description
MedMattress Bari Ultra Care Hospital Bed Mattress
Ideal for High Risk Bariatric Patients Weighing 500 – 1,000 lbs
MedMattress is proud to offer a new line of hospital bed mattresses. The MedMattress Care Mattresses are designed to provide a variety of sleep surface solutions for every patient. The Care hospital mattress collection provides options for every level of care including home care, advanced care and bariatric care. All MedMattress foam mattresses are created with CertiPUR-US® certified foam to ensure the highest quality mattress for your patients.
The MedMattress Bari Ultra Care Med-Surg Mattress is created from a four-layer, gel memory foam core provides maximum support while providing exceptional comfort and pressure redistribution qualities making it ideal for high risk bariatric patients weighing 500 – 1,000 lbs.
Specifications
Nymed™ healthcare grade nylon top cover features a permanent polyurethane coating providing additional fluid resistance while maintaining integrity and soft-to-the-touch feel 

Vynmed™ healthcare grade vinyl bottom cover is extremely durable and features a permanent polyurethane coating and a tear-resistant double-sided coating 

Heavy-duty zippered mattress cover allows for convenient internal mattress inspection and easy replacement 

Anti-contamination, fluid protection flap redirects fluids away from the zipper reducing the possibility of fluids damaging the foam core

Built-in thermally-sealed secondary fluid barrier is placed between mattress cover and foam core to ensure foam remains dry and sanitary if outer cover is compromised

Built-in fire barrier protects the foam core and adds an additional layer of fire protection 

FirmEdge™ passive restraint system is specifically designed with two (2) zones of ultra-firm foam to provide extra support during patient entry or egress

CertiPUR-US foam core is comprised of four (4) layers: Cool-Gel Memory Foam Top Layer, Performance Soft Foam Internal Layer, Semi-Firm Foam Internal Layer and High-Density Supportive Foam Base Layer

Mattress cover is fluid resistant, antibacterial, antifungal, stain resistant, antistatic, non-allergenic, non-irritating, self-deodorizing and latex free

Conforms to Cal Tech Bulletin 129 and CFR 1633

Weight capacity: 500 Ibs and 1,000 lbs

Warranty: One (1) year standard with extended warranty options available
MedMattress Bari Ultra Care Hospital Bed Mattress Foam Breakdown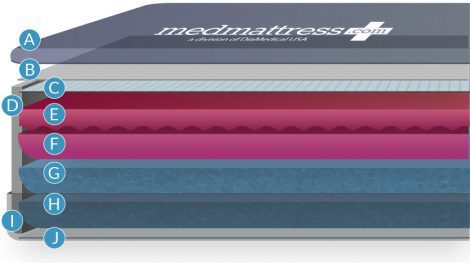 Nymed™ Healthcare Nylon Cover
Fire Barrier Layer
Secondary Fluid Barrier
FirmEdge™ Passive Restraint System
1" Cool-Gel Memory Foam
2″ Performance Soft Foam
2" Semi-Firm Foam
2″ Supportive Base Foam
Secondary Fluid Barrier
Vynmed™ Healthcare Vinyl Cover